Meet Steven Serpa, composer of the winning short opera Thyrsis and Amaranth, which will be a part of the Inaugural Fresh Squeezed Ounce of Opera Showcase. And truthfully, the piece that started it all.
I (Julie Fiore) first met Steven in Austin over drinks about a year ago. He shared Thyrsis with me, and the idea to host a short opera competition began to swirl and clink like the ice in our glasses. I knew I wanted to bring T&A to life (oh, the puns!). I am so glad to have Steven as a part of this very first FSOO!
YOU OR YOUR BUSINESS CAN CHAMPION STEVEN'S DEBUT WITH ONE OUNCE OPERA. BE HIS TITLE SPONSOR!
Here are a few questions from OOO to Steven. You will find a full bio below his thoughtful answers. Enjoy!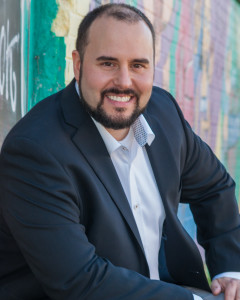 1) What part of your composition style/compositions do you feel is the most influenced by your unique experience as a countertenor?
Well first off, my training as a classical singer comes out in the prominence of melodic lines in my compositions. Whether I am composing for piano or orchestra or whatever, a lyrical, singable line is strongly present. Being a countertenor specifically, I have had the chance to perform a whole lot of early music and have worked with and learned from leaders in Medieval, Renaissance, and Baroque performance. The music that really fascinates me uses modes instead of the major/minor scales classical music, and that has influenced my melodic and harmonic language immensely. To get a little dorky, I have a penchant for modal cadences of thirds rather than classical cadences of fifths. There is a duet toward the end of the opera that is in a sort of D major mode, and the harmonic progress ends with F-sharp minor to D major harmony, as opposed to a traditional cadence that would go from A major to D major. Another characteristic of my music that comes directly from my early music performance experience is my use of cross-relations, where a pitch of two different qualities would sound at the same time or in quick succession. So at the end of Thyrsis' aria at the beginning of the work, he ends holding a C sharp in an A major chord, and then the piano quickly cadences to the B-Dorian/Phrygian mode mixture I'd been playing with. Thyrsis is sustaining his C sharp, the piano creates a harsh dissonance by hitting C natural against it. This collision of pitches is built into lyrical melodic lines that disguise their conflict, but it creates an affect for the listener of things not being settled, of things not quite joining together. In Thyrsis & Amaranth, these cross-relations hint that the love story isn't going to work out so well for Thyrsis as he ambiguously relates his feelings for Amaranth to her.
2) How did Thyrsis and Amaranth come to be?
The idea of writing Thyrsis & Amaranth came when I stumbled across Ned Rorem's set of mini-operas based on fables of Jean de la Fontaine. Some of Fontaine's fables are retellings of Aesop's fables, and many were familiar to me, like "The Ant and the Grasshopper" or "The Fox and the Grapes," stories on which Rorem focused. Fontaine also created many original fables that included human characters for the amusement of the French court, and I found some of these human stories to be timeless, like the unwitting and awkward mistakes most of us have made in pursuing a lover, as Thyrsis does here. I originally thought of the work as a modern version of the Baroque pastoral cantata, and I composed it as a series of arias, duets, and linking recitatives modeled on something Handel or Charpentier might compose. A mezzo-soprano friend looked at it when I was close to done and told me this wasn't a concert work like a cantata but that it was begging to be done on the operatic stage. I think she was right. Hopefully the OOO audiences think so too!
3) What do you find the most exciting about composing? Does it compare to how you feel when you perform?
I think the most exciting thing about composing is collaborating with musicians who are bringing my work to life. Composers have to balance multiple personalities. I have my private, creative persona that needs solitude to compose— to think about what I'm working on, planning and formulating ideas. This can be very dull and sometimes quite lonely. Another side of the composer is the person who wants to share with a public and be out with people creating music and impacting audience's emotions. This is where the real fun begins, working with people to bring music to life. I get so energized over this. I particularly love hearing ideas and interpretations brought to my music that maybe I hadn't envisioned.
As a performer, the interaction and gratification of music-making is immediate. I can sing an aria, sense the audience reacting or not reacting, adjust in the moment, and then meet audience members afterward and hear how they were impacted by my performance, face to face. I love the immediacy. That interaction is so different in composing. I compose in a bubble, wanting to share something with people. It will be months or more until a work is presented to an audience. I might have completely failed to communicate what I was hoping to, but I won't find out until after a performance. For example, the Austin Symphony premiered my work An Invocation this past February. I wrote that tone poem in 2012 and here it is 2016 having its first performances. Communicating with an audience can become very prolonged. That said, I've always feared as a singer that I am only as good as my last audition or impressive as my last performance. As a composer, I can take my time to craft a work, and once it's finished it can possibly last beyond my lifetime, which is also scary to think about, like those bands that are haunted by their one hit and have to perform it over and over again!
4) Where do you think the "future of opera" might be headed?
 It's hard to tell where opera is going, but it's exciting to see that opera is getting more and more support from communities in the United States. I think diversity is an important trend in opera right now. Opera has been trending toward telling the stories of individuals and groups that have been on the fringe of American society but that have been an integral part of the fabric of this country. I hope this trend continues because I've got some operatic subjects to tackle. I've been tackling these current topics in non-operatic works such as a recent choral song cycle, Like a Darling, premiered in Seattle in March, I set the poetry of a Naomi Shihab-Nye, a Palestinian-American poet living and working in San Antonio, which is her reaction to terrorist bombings in Lebanon in the 1990s. While my first operatic venture Thyrsis & Amaranth is a historical throwback in form, I've included a gender-bending male lead that I think speaks to assumptions of what characteristics create masculinity or expressions of being a man in our society.
Steven Serpa, composer and countertenor, has earned his master's degrees in music composition from the Hartt School and in early music performance from Longy School of Music, along with bachelor's degrees in vocal performance and musicology from the University of Rhode Island. As a countertenor, Steven has been featured as soloist in works ranging from the Ordo Virtutum of Hildegard von Bingen to Puccini's Tosca and Bernstein's Chichester Psalms. He has been heard as a soloist in many baroque masterworks such as Monteverdi's Orfeo, Handel's Messiah and Bach's Johannes-passion. Recently Steven has debuted with the Austin Baroque Orchestra and will help close their season as a soloist in Handel's Esther. In addition, he has performed with Opera Providence, Opera Boston, the Boston Academy of Music, the Vox Consort, and the Arcadia Players, among other ensembles, and in such festivals as the Newport Music Festival, the Boston Early Music and the Amherst Early Music Festivals. He is an avid proponent of art song and vocal chamber music, commissioning new works for countertenor and giving annual recitals. He has been guest lecturer on the topic of the countertenor voice and American art song at the Hartt School, Longy School of Music, and Coker College, giving lecture-recitals and master classes.
As a composer, Steven's vocal, choral and chamber works have been performed throughout the United States and Canada. His one-act opera, Thyrsis & Amaranth, based on a fable by Jean de la Fontaine, was premiered by Hartford Opera Theater and recently produced by Halifax Summer Opera. Other recent stage collaborations include music to a staged version of Pride & Prejudice and dance works for choreographers in New York City and Hartford. Steven was recently recognized for his outstanding choral writing as the winner of the Cerddorion Vocal Ensemble's annual Emerging Composers Competition and was named a finalist for the American Prize in Choral Composition. His choral cantata Heaven's Birds: Lament and Song was written in collaboration with North Carolina poet Jeffery Beam to commemorate World AIDS Day for a benefit concert for the AIDS Action Committee of Boston. Other recent commissions include a woodwind quintet, Images des film de Jean Cocteau, for the Hartt School, a violin/harp duo, shadow-list songs, the Rhode Island-based new music series Providence Premieres, and a new work for oboe and strings, An Invocation, which will be premiered by the Austin Symphony Orchestra in their upcoming 2015-2016 season. Current projects for Steven include a choral song cycle for the Boston-based vocal ensemble Zefiro and a sonata for oboe and piano to be presented at a future conference of the American Double Reed Society. He studied composition with Tom Cipullo in New York City, with Stephen Gryč at the Hartt School of Music, and is currently working toward his doctorate in music composition at the Butler School of Music of the University of Texas at Austin.